Our Commitment to Residence Management
As the person responsible for residence management, you are aware of the problems associated with the often high demands of residents due to mental an behavioral health issues.  Silver linings can bring welcome relief by working with residents to improve their mental health.  Our team of Licensed Clinical Social Workers (LCSW) provide individual and group counseling and special social events to improve mental health and facilitate peace and harmony for your residents.
How Silver Linings can Help You in a Nutshell
Working with Silver Linings allows your residents to enjoy a more fulfilling life and have fewer problems with daily mental health functioning.  We provide:
Psychological assessments
Inter-disciplinary team consultations
Individual and Group Therapy
Psycho-educational classes and workshops
Behavior management
Family Consultation and Therapy
Regular updates on all clients being counseled following all HIPAA Guidelines.
A team that is dedicated to serving your Residents' needs.
A 24 hour or less response time for all general referrals and immediate response for more pressing concerns
A dedicated Relationship Specialist to maintain communication between you and Silver Linings
Social Activities and Special Events
For communities that work with us on an exclusive basis, we also offer social events that are designed to engage the seniors in fun, therapeutic, and stimulating activities.  These activities are hosted by Silver Linings and led by the therapy staff.
Social events enjoyed by some of our current communities include: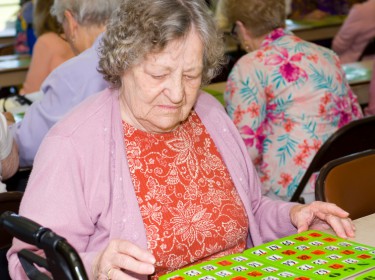 "Bingo with a Twist" which is a game sponsored by Silver Linings with prizes (sugar and sugar free candies, stationary, calendars, etc.).
"Night Cap Social" an event where the seniors relax and join together to enjoy a small glass of wine and/or other beverage (if approved and provided by the retirement community) and play team-building activities such as a modified version of Taboo.